We have been distinguished for our innovation since 1925
Our long history is the driving force to reach even farther, to set new goals and to overcome them.
The founder of our company, Philippos Lemis, returned from America in 1925 carrying an innovative idea for the time: The creation of a hotel service company.

Today we still stay loyal to the founder's vision and continue to offer innovative solutions for the benefit of the final consumer.
Since 1925 we have been inventing new ways for appropriate and healthy cleaning. We want you to feel our professional care when you receive clothing that has been cleaned by us. To remain a leading company in our field we must always be pioneers and this is our daily goal.
After so many years of continuous growth, tracking developments in our field still feels fascinating. The adoption of new techniques aims to excellent work and cooperation with our customers which is always the ultimate goal.
The company changes its legal form and name: From "Volga" it becomes "Laundries of Philippos Lemis Sons'"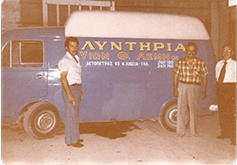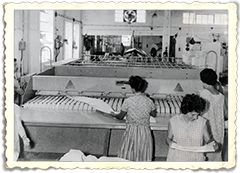 The horses were replaced by cars, old machines were replaced with new ones and cooperation and service of our clients became more complete.